At-A-Glance Calendars & Planners
Planning essentials inspired by the need to capture life's moments.
• Document your past
• Plan your future
• Publish your own, unique life story
Shop all At-A-Glace
Cambridge Notebooks & Planners
Trend driven notetaking and planning must-haves.
• Plan in Fashion
• Designs inspired by fashion capitals: NYC, LA, Paris
Shop all Cambridge
Five Star Notebooks & Paper
Built strong to last.
• School Supplies that last all year
• Dynamic designs built for quality, durability and long-last performance
Shop all Five Star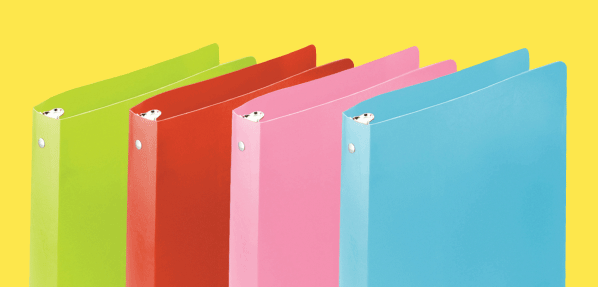 Wilson Jones 3-Ring Binders & Presentation Books
Save Time. Save Space. Keep Your Peace of mind.
• Founded in 1893
• Inventor of the 3-ring binder
• Organization made easy for a chaos-free life
Shop all Wilson Jones
Mead Paper, Dry Erase Boards, Envelopes & More
Tools and accessories you need to learn, organize, and create.
• Integrity - Quality - Innovation
• Delivers the products and performance that you depend on
Shop all Mead
Quartet Marker & Dry Erase Boards
Your next great idea starts here!
• Turn ideas into reality while expressing yourself and inspiring others
• World's largest provider of whiteboard, bulletin board and chalkboard products
Shop all Quartet
Top Sellers On Sale
AAGSK2400

22" x 17" - 12 Months - January-December - 2.88" x 2.38" Daily Block Size - Headband Binding - Poly Corners - Black, White

FREE Shipping Orders $45+

WLJ36210W

5 1/2" x 8 1/2" Sheet Size - 1" Round Ring - 175 Sheet Capacity - White

FREE Shipping Orders $45+

MEA05512

8" x 10 1/2" - College Ruled - Wire Binding - 70 Sheets - Assorted Cover Colors - 1 Each

FREE Shipping Orders $45+

AAGPM1228

24" x 36" - 12 Months - January-December - 1" x 1.5" Daily Block Size - Metal Bound - Blue, Red

FREE Shipping Orders $45+

MEA85357

White Board with Aluminum Frame - 1 Each

FREE Shipping

AAGPM1128

12.25" x 27" - 14 Months - December-January - Wirebound - Blue, Red, White

FREE Shipping Orders $45+

AAGPM2628

36" x 24" - 12 Months - January-December - 1.25" x 1.38" Daily Block Size - Blue, Red

FREE Shipping Orders $45+

AAGPM21228

36" x 24" - 12 Months - January-December - 1.25" x 1.25", 1.25" x 1.38" Daily Block Sizes - Blue, Red, White

FREE Shipping Orders $45+

WLJS802

4.12" x 6.75" - 2 Pages/ Week - 21 Lines - 36 Sheets - Green Pressboard Cover - 1Each

FREE Shipping Orders $45+

MEA09932

7 1/2" x 9 3/4" - COLLEGE RULED - Sewn Binding - 100 Sheets - Black Paper Cover - 1 Each

FREE Shipping Orders $45+

AAGG52000

8" x 11" - Weekly - January-December - 7:00 AM-9:45 PM, 7:00 AM-6:45 PM - Quarter-Hourly Appointment Times - Wirebound - Simulated Leather - Black Cover

FREE Shipping Orders $45+

AAGPM32628

48" x 32" - 12 Months - January-December - 1.63" x 1.63" Daily Block Size - Blue, Red

FREE Shipping Orders $45+

AAGPM228

12" x 17" - 12 Months - January-December - 1.56" x 2.44" Daily Block Size - Wirebound - Blue, White

FREE Shipping Orders $45+

QRTECKA406

72" x 48" - Natural Cork Surface - Aluminum Frame

ACC72202

1" Diameter - Silver - Nickel-Plated Steel - 100/Box

FREE Shipping Orders $45+

AAG7095005

8.25" x 10.88" - Weekly - January-January - 7:00 AM-8:45 PM, 7:00 AM-5:30 PM - Quarter-Hourly Appointment Times - Wirebound - Simulated Leather - Black Cover

FREE Shipping Orders $45+

AAGPM428

20" x 30" - 12 Months - January-December - 2.69" x 4.38" Daily Block Size - Wirebound - Blue, Red, White

FREE Shipping Orders $45+

ACC15026

Letter - 2 Dividers - 6 Fasteners - 3" Capacity - Sky Blue - 10/ Box

FREE Shipping

AAGE71750

3.50" x 6" - Daily - January till December - 7:00 AM to 5:00 PM - Black, White

FREE Shipping Orders $45+

AAGPM17028

11" x 8.50" - 12 Months - January-December - 1.5" x 1.25" Daily Block Size - Wirebound - Blue, Red, White

FREE Shipping Orders $45+

MEA15200

8" x 10 1/2" - Wide Ruled - 15 lb Paper Weight - 3-Hole Punched - White - 200 Sheets/ Pack - 1 Pack

FREE Shipping Orders $45+

MEA05510

7 1/2" x 10 1/2" Sheets - Wide Ruled - Spiral Binding - 70 Sheets - Assorted Colors

FREE Shipping Orders $45+

AAG7026005

9" x 11" - Monthly - January-January - Wirebound - Simulated Leather - Black Cover

FREE Shipping Orders $45+

ACC72020

3/4" Width - 5/16" Capacity - Black - 12/ Pack

FREE Shipping Orders $45+

ACC72385

No. 1 - 1 3/8" Length - Nonskid Finish - Silver - 100 Paper Clips/ Box - 10 Boxes/ Pack - 1,000 Paper Clips Total

FREE Shipping Orders $45+

ACC12992

2" Capacity - Silver - 50/ Box

FREE Shipping Orders $45+

ACC72050

1 1/4" Width - 5/8" Capacity - Black - 12/ Pack

FREE Shipping Orders $45+

MEA06900

6" x 9 1/2" - College Ruled - Wire Binding - 150 Sheets - Assorted Cover Colors

FREE Shipping Orders $45+

ACC72380

No. 1 - 1 3/8" Length - Smooth Finish - Silver - 100 Paper Clips/ Box - 10 Boxes/ Pack - 1,000 Paper Clips Total

FREE Shipping Orders $45+

ACC72010

1/2" Width - 1/4" Capacity - Black - 12/ Pack

FREE Shipping Orders $45+

MEA09910

7 1/2" x 9 3/4" - Wide Ruled - 100 Sheets - Sewn Binding - Black Marble Cover - 1 Each

FREE Shipping Orders $45+