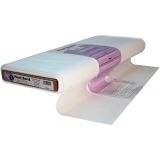 Heat'n Bond Non-Woven Lightweight Fusible
White 20"X25yd FOB: MI
Product Number:
NOTM149183
Product Description
Heat'n Bond Non-Woven Lightweight Fusible - THERM 0 WEB-Heat n Bond Iron-On Fusible Interfacing. Non-woven light weight works well with dresses, blouses or accessories made of sheer or light weight fabrics. This package contains one 25 yard bolt of 20 inch wide non-woven white light weight interfacing. Made of 100% polyester. Machine washable. Made in USA.
Guides & Information
Need more information?
Ask a Question