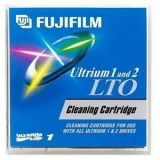 Fujifilm LTO Universal Cleaning Cartridge
LTO Ultrium LTO-1
Product Number:
SYNX975880
Cleaning cartridge - Fits in drives and is similar to a data cartridge in size and looks, the only difference is it cleans the heads of the tape drive and does not store information
LTO 1 tape technology - Provides the capacity, performance and affordability that changes today's small-to-medium businesses (SMBs), companies, government agencies and academic institutions giving them quick return on investment
More details
Product Description
Fujifilm LTO Universal Cleaning Cartridge - Fujifilm LTO Universal cleaning tapes are equipped with a computer memory chip (just like the data tape). The chip stores various information and it has an embedded code that is recognized by the compatible drive's firmware. Once the cleaning cartridge is used to capacity (15 - 50 uses, drive dependent), the drive will no longer accept the cleaning tape and will eject the tape, prohibiting further use.
Cleaning cartridge - Fits in drives and is similar to a data cartridge in size and looks, the only difference is it cleans the heads of the tape drive and does not store information
LTO 1 tape technology - Provides the capacity, performance and affordability that changes today's small-to-medium businesses (SMBs), companies, government agencies and academic institutions giving them quick return on investment
Product Specifications
Additional Information

Number of cleanings per cartridge is drive dependent (maximum 50 cleanings)

Brand Name

Fujifilm

Compatibility

LTO Ultrium 1 Drive LTO Ultrium 2 Drive

Manufacturer Part Number

26200014

Product Name

LTO Universal Cleaning Cartridge

Product Type

Cleaning Cartridge

Tape Technology

LTO-1