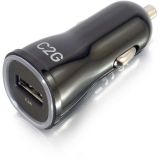 C2G 1-Port USB Car Charger, 2.4A Output
12 V DC, 24 V DC Input - 5 V DC/2.40 A Output
Product Number:
SYNX5304833
One USB-A female port
Get your gadgets fully charged while traveling
5V, 2.4A maximum total output
Delivers 5 V DC to ensure that your device is always ready to use
More details
Product Description
C2G 1-Port USB Car Charger, 2.4A Output - The 1-Port USB Car Charger is an ideal solution for charging mobile devices while on long road trips or short commutes. This high-performance car charger features a compact design for easy portability and provides a power output of 5V and 2.4A for device charging.

The charger includes one USB-A port to charge a single device. The charger offers quick charging and has the ability to detect the accurate current output for protection against overloads, which can damage valuable mobile devices.

5 volts and 2.4 amps of power are available for device charging from this adapter when it is plugged into a DC outlet. The power output makes this adapter the perfect solution for charging smartphones.
One USB-A female port
Get your gadgets fully charged while traveling
5V, 2.4A maximum total output
Delivers 5 V DC to ensure that your device is always ready to use
Accurate current limit and overload protection
Quick charging
2.40 A helps charge quickly
Fireproof shell material
Blue LED indicator when powered
Product Specifications
Brand Name

C2G

Country of Origin

China

Device Supported

Smartphone

Environmental Certification

WEEE

Environmentally Friendly

Yes

Input Voltage

12 V DC 24 V DC

Limited Warranty

1 Year

Manufacturer Part Number

21068

Maximum Output Current

2.40 A

Output Voltage

5 V DC

Product Name

1-Port USB Car Charger, 2.4A Output

Product Type

Auto Adapter

USB

Yes