Pens, Markers & Highlighters Buying Guide
Selecting the right pen for the job depends on several factors: Will you be using the pen on typical copy paper or heavier cardstock? Also consider how flow and comfort grip will effect the precision needed for your writing tasks. We offer products from BIC, Paper Mate, Pentel, Sharpie, TUL, Uni-Ball, Universal, Skillcraft, Pilot, Zebra, Cross, Koh-I-Noor, Prismacolor, Charles Leonard, Sakura, Staedtler, and Pentel.
Your choice of writing utensil shouldn't be limited to what's in your desk drawer. A pen should have a comfortable grip, contain the right point thickness and allow the precision you need for the job. Whether you prefer a ballpoint, gel pen or a hybrid such as Papermate's InkJoy, you'll find it at OfficeSupply.com.
Featured Pen: TUL Retractable Gel Pens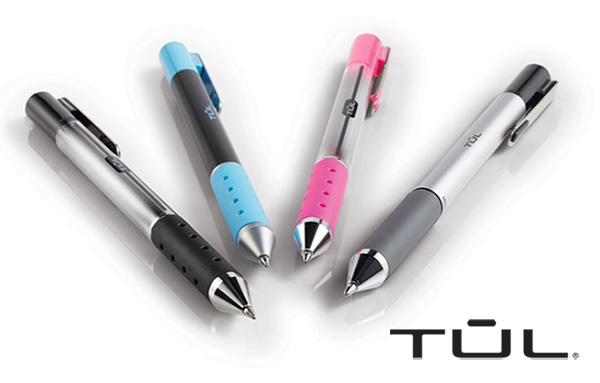 The sophisticated design of TUL brand pens offer high-quality feel and outstanding performance without the fine writing pen price. The smooth-writing gel pens offer a variety of colors for every day writing and creative inking of drawings. The vibrant hues offer color-coding options to your writing tasks. The TUL pen has a metal tip for balance and writing precision and detailed lines. TUL retractable pens offer a rubberized comfort grip and the fair price makes them great for every day use.
Shop by Pen Type:
Popular Pen Brands
Featured Pens
ODFN1376740

FREE Shipping Orders $45+

PAP89465

Bold Point - 1.40 mm Point Size - Black Ink - Smoke Barrel - 12/ Pack

FREE Shipping Orders $45+

ODFN1376686

FREE Shipping Orders $45+

ZEB22210

Medium Point - 1.0 mm Point Size - Black Ink - Black Barrel - 12/ Pack

FREE Shipping Orders $45+

ODFN1373878

FREE Shipping Orders $45+

SAN30072

Fine Point Size - Assorted Colors - 12/ Set

FREE Shipping Orders $45+

ODFN1373887

FREE Shipping Orders $45+

PAP1960662

Bold Point - 1.40 mm Point Size - Assorted Ink - Assorted Barrel - 8/ Set

FREE Shipping Orders $45+

ODFN5378843

FREE Shipping Orders $45+

PAP1951713

Medium Point - 0.70 mm Point Size - Assorted Ink Colors - Assorted Barrel Colors - 6/ Set

FREE Shipping Orders $45+

BICPMR11BK

Fine Point Size - Black - 12/ Pack

FREE Shipping Orders $45+

PIL31256

Bold Point - 1.0 mm Point Size - Black Ink - Clear Barrel - 12/ Pack

FREE Shipping Orders $45+

ODFN1373914

FREE Shipping Orders $45+

SAN33952

Medium Point - 0.70 mm Point Size - Red Ink - Translucent Barrel - 12/ Pack

FREE Shipping Orders $45+

ODFN9454034

FREE Shipping Orders $45+

ZEB46820

Medium Point - 0.70 mm Point Size - Blue Ink - Translucent Barrel - 12/ Pack

FREE Shipping Orders $45+

ODFN1376722

FREE Shipping Orders $45+

ODFN990476

FREE Shipping Orders $45+

SAN30665PP

Fine Point Size - Black - 5/ Pack

FREE Shipping Orders $45+

ZEB12225

Medium Point - 1.0 mm Point Size - Blue Ink - Clear Barrel - 24/ Pack

FREE Shipping Orders $45+

ODFN1310067

FREE Shipping Orders $45+

PAP70672

Medium Point - 1.0 mm Point Size - Black Ink - Pink Barrel - 12/ Pack

FREE Shipping Orders $45+

ODFN1373878

FREE Shipping Orders $45+

PIL31294

Fine Point - 0.70 mm Point Size - Assorted Ink - Black Barrel - 20/ Set

FREE Shipping Orders $45+

ODFN1376677

FREE Shipping Orders $45+