Subscribe and Save 5%
Save time and money with hassle-free OfficeSupply.com subscriptions.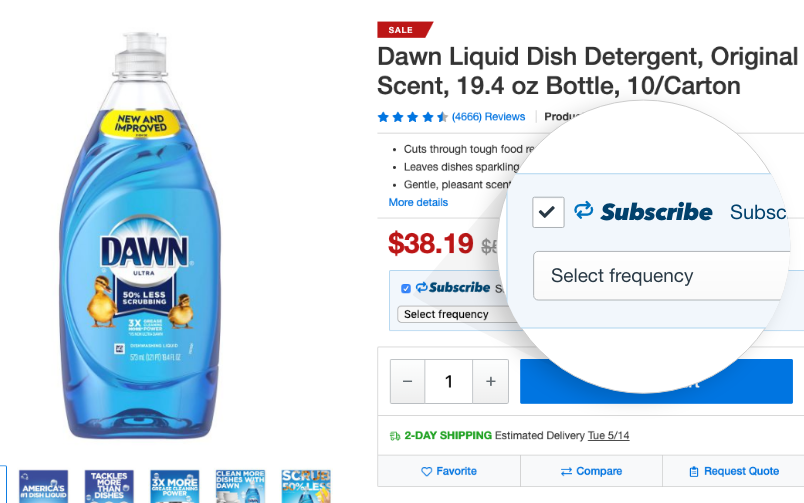 Creating a product subscription is fast and easy.
Say goodbye to having to remember to reorder your most commonly purchased items. Now you can set up subscriptions and autoship with just a few clicks.
Shop thousands of subscription-ready products.
Easily create new subscriptions or add products to existing subscriptions.
Save 5% on all qualifying subscriptions.*
Start Shopping Now
Easily manage & personalize your subscriptions:
Rename your subscription for quick reference.
Change the next autoship date or frequency.
Add more products to next shipment.
Update billing and automatic shipping any time.
Cancel anytime. No strings attached!
Free shipping on qualifying orders of $45 or more!
Get 5% Discount on Qualifying Subscriptions*
Save big money on your commonly purchased products. Save time by keeping your breakroom, printing supplies and more automatically replenished.
Common autoship subscriptions include:
Break Room Supplies & Snacks
Copy Paper, Ink & Toner
Health Care Supplies
Janitorial & Cleaning Supplies
Office Supplies
* Most products are available for subscription savings, however some manufacturers won't allow us to discount their products, therefore we cannot offer the additional 5% discount savings to those products that have a subscription. You will be able to subscribe to these items and receive them on a regular schedule as determined by you.