Shop our exclusive brands for your office, school or home.
The Highmark brand offers high-quality trash bags, plastic kitchen utensils, disposable cups, serving bowls, paper plates, paper towels, toilet paper, facial tissue, napkins, recycling bins and hand soap. Our cleaning, kitchen, breakroom and household products are dependable and a great every-day value.
Shop Highmark
The Executive Suite brand offers premium options for your morning brew with richly roasted coffee in large bags, fraction packs and K-Cup pods. Customize your cup with a delightful variety of coffee creamers and sweeteners. Ditch the expensive coffee house and savor a custom brew with popular varieties like Breakfast Blend, House Blend and Dark Roast.
Shop Executive Suite
The Just Basics brand is perfect for every day use in the office, classroom or home with an economical price. Most of the products feature recycled materials to help our environment. Choose from copy & printer paper, view binders, solid 3-ring binders, notebooks and more.
Shop Just Basics
The See Jane Work brand of office supplies lets you express your individuality, have fun and achieve your work and personal goals in style. Choose from planners, filing folders, storage boxes & bins, wall organizers desk accessories, personal planners, padfolios, calendars and cases.
Shop See Jane Work
The TUL brand offers exceptional-quality time management, pens, markers, highlighters, notebooks, and personal organization products at every-day value prices. Beautifully designed TUL writing, note-taking and planning supplies help you do your best work and stay creative.
Shop TUL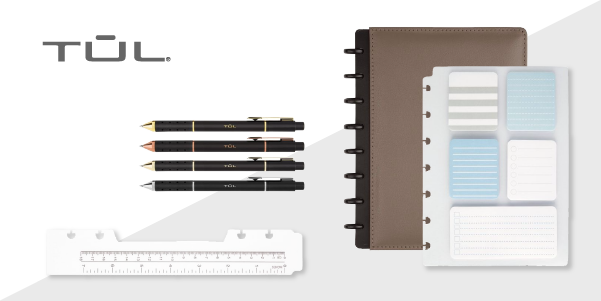 The Scholastic brand offers creative and educational learning products for the classroom and home. Their exclusive products are inspirational for teachers and engaging students in classroom learning for all ages. Choose from activity kits, coloring supplies, paints, tape, scissors or glue to innovate and imagine.
Shop Scholastic
The Brenton Studio brand is a wide variety of simple, functional furniture that offers comfort for the lean budget. The selection of task chairs, guest chairs, stools, desks, lighting, desk organization and storage will meet your style and pocketbook needs.
Shop Brenton Studio
The Realspace brand offers affordable office furniture with style and versatility. From office chairs, file cabinets and desks to bookcases, chair mats, tables, desk accessories and more – Realspace can meet your comfort and workspace needs.
Shop Realspace
WorkPro brand offers workspace furniture designed to help you do your best work. Choose from ergonomic desk chairs, desk tops, filing cabinets, dry erase boards and lighting designed with quality, comfort and functionality.
Shop Workpro
The Ativa brand offers all your connection, technology and productivity solutions for the office, home, school and on the go. Choose from paper shredders, electronics cables, audio headphones, cell phone, wireless & computer accessories and calculators.
Shop Ativa
Subscribe & Save 10% on Exclusive Brands
Save time and money with hassle-free OfficeSupply.com subscriptions.
Featured Products
ODFN420782

FREE Shipping Orders $45+

ODFN321262

FREE Shipping Orders $45+

ODFN693850

FREE Shipping Orders $45+

ODFN508338

FREE Shipping Orders $45+

ODFN791823

FREE Shipping Orders $45+

ODFN543650

FREE Shipping Orders $45+

ODFN508562

FREE Shipping Orders $45+

ODFN6182331

FREE Shipping Orders $45+

ODFN155694

FREE Shipping Orders $45+

ODFN895046

FREE Shipping Orders $45+

ODFN6567023

FREE Shipping Orders $45+

ODFN9773835

FREE Shipping Orders $45+

ODFN396311

Letter Size - 1" Round Ring - 225 Sheet Capacity - Black - 1 Each

FREE Shipping Orders $45+

ODFN293799

FREE Shipping Orders $45+

ODFN249325

FREE Shipping Orders $45+

ODFN9454034

FREE Shipping Orders $45+

ODFN1373878

FREE Shipping Orders $45+

ODFN217803

FREE Shipping Orders $45+

ODFN1376686

FREE Shipping Orders $45+

ODFN128435

FREE Shipping Orders $45+

ODFN451313

Supports Up To 250 lbs - Black - Assembly Required - Limited 1-Year Warranty

FREE Shipping

ODFN524272

FREE Shipping Orders $45+

ODFN7900841

FREE Shipping Orders $45+

ODFN346452

FREE Shipping Orders $45+

ODFN5548694

FREE Shipping

ODFN6794063

FREE Shipping

ODFN476279

Supports Up To 350 lbs - Taupe - Faux Leather Fabric - Assembly Required - Limited 5-Year Warranty

FREE Shipping

ODFN7539817

FREE Shipping

ODFN451313

Supports Up To 250 lbs - Black - Assembly Required - Limited 1-Year Warranty

FREE Shipping

ODFN4659304

Supports Up To 275 lbs - Brown - Vinyl Fabric - Assembly Required - Limited 1-Year Warranty

FREE Shipping

ODFN6785666

Supports Up To 275 lbs - Black - Mesh Fabric - Assembly Required - Limited 3-Year Warranty

FREE Shipping

ODFN7833273

Supports Up To 275 lbs - Onyx - Bonded Leather Fabric - Assembly Required - Limited 5-Year Warranty

FREE Shipping

ODFN475676

FREE Shipping Orders $45+

ODFN604924

Supports Up To 250 lbs - Black - Mesh Fabric - Assembly Required - Limited Lifetime Warranty

FREE Shipping

ODFN6735161

FREE Shipping

ODFN4749389

FREE Shipping

ODFN9411260

FREE Shipping

ODFN9320829

6-sheet shredder can be used to destroy staples, paper clips, and credit cards. Cross-cut shredder quickly dispose of financial statements and other personal documents.

FREE Shipping Orders $45+

ODFN9320664

Keep this powerful unit in your home office to quickly shred through sensitive documents. The micro-cut design leaves behind virtually unreadable scraps.

FREE Shipping

ODFN833420

FREE Shipping Orders $45+

ODFN939422

FREE Shipping Orders $45+

ODFN6590928

FREE Shipping Orders $45+

ODFN4299928

FREE Shipping Orders $45+