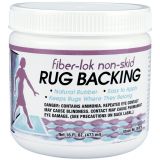 Fiber-Lok Non-Skid Rug Backing 16oz
Product Number:
NOTM268427
Product Description
Fiber-Lok Non-Skid Rug Backing 16oz - ETI-Fiber-lok Non-skid Rug Backing. Used to keep your rugs safely in one place, preventing slipping, skidding and tripping. It is ideal for latch hook rugs, punch needle rugs and wall hangings. Revives old rugs and helps them last years longer. Fiber-lok is machine washable and dryable. It can also prevent unraveling and loosening of fibers and canvas. Fiber-lok is made of matural latex, water and ammonia. Application is as easy as painting it on in thin coats using a simple paint brush: goes on milky adn dries transparent (not clear). Cleans up with soap and water. Packaged in a plastic, wide-mouthed jar. Contains 16 fluid ounces (473ml): 15 square foot of coverage. WARNINGS: Treated rugs may still slip on wet surfaces, Contains ammonia, Keep out of the reach of children, Do not use if you are sensitive to latex. Made in USA.
Need more information?
Ask a Question