Coffee Shop Quality Drinks on Demand
Flavia coffee machines by Lavazza are ideal for mid-sized to large-sized businesses, offering a full range of cafe-style drinks conveniently in the office. Our machines brew a full range of single-serve drinks, so you can enjoy your favorite café-style beverages without leaving the office. Choose from a variety of single-serve drinks including fresh ground coffees, cappuccinos, lattes, real-leaf teas and premium hot chocolate.
Our reliable machines deliver the benefits you expect - easy to fill, maintain, clean and built-to-last. Because our products are only designed for the workplace, people will enjoy them there and there alone – giving you greater control over your office stock and expenses.
We're brewing a better work day in every cup!
We're inspiring innovative ways to help people work together to achieve great results:
Keep employees on time by bringing the coffee shop to them.
Energize your office with coffee, tea, cappuccino, lattes, mocha & hot chocolate.
Demonstrate that you value employees hard work & well-being by offering free coffee.
Millennials make up 30% of the workforce in 2020 – they love a full range of drinks!
Variety on Demand
Crafts perfect coffees, real-leaf teas, lattes, cappuccinos, and premium hot chocolate in under a minute.
Built for the Workplace
Sophisticated coffee brewing process ensures no crossover in flavor from one drink to the next.
Unbeatable Taste
Our commercial-grade, low-maintenance workplace drink brewers are built to stand up to the demands of the busy office life.
Brewed Just for You
Endless drink combinations from your favorite brands, available in 4 different sizes: Small, Regular, Large, and Over Ice.
Coffee Makers in Any Size
Stylish design with enhanced drink and menu display options making it easier than ever to create and enjoy the perfect brew.
Flavia Creation 150 Drink Station
For small workplaces with 1-20 employees. Compact, counter-top design with portable, easy-till water tank. Single-serve drinks in under a minute!
Shop Now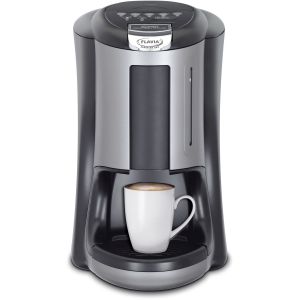 Flavia Creation 200 Drink Station
For workplaces with 15-75 employees. Brewing a better work day in every cup! Refuel employees with a reliable machine that is easy to fill, maintain and clean.
Shop Now
Flavia Creation 500 Drink Station
For workplaces with 50+ employees. High-performance workplace brewer is designed especially with the needs of large offices and collaborative areas in mind.
Shop Now
Shop Our Flavia Brand Selections
MDKF1NA

1600 W - 2.92 quart - Black

FREE Shipping

MDKL1NA

3.17 quart - Black

FREE Shipping

MDKLV02

Compatible with Flavia Barista, Flavia Creation 500, Flavia Creation 200, Flavia Creation 150, FLAVIA Creation 600 - Robusta, Arabica, Intenso's Bold, Lavazza Intenso, Smoky, Chocolate - Dark - 0.3 oz - Kosher - 85 / Carton

FREE Shipping

MDKLV01

Compatible with Flavia Creation 200, Flavia Creation 500, Flavia Creation 200, Flavia Creation 150, FLAVIA Creation 600 - Signature Blend, Arabica, Robusta, Classico, Dried Fruit - Medium - 0.3 oz - Kosher - 85 / Carton

FREE Shipping

MDKSX02

Pike Place Roast - Medium - 0.3 oz - 80 / Carton

FREE Shipping

MDKA182

Morning Blend Flavor - Light Roast - 1 Freshpack = 1 Cup - 100/ Carton

FREE Shipping

MDKA180

Colombia Flavor - Medium Roast - 1 Freshpack = 1 Cup - 100/ Carton

FREE Shipping

MDKA185

Hazelnut Flavor - Medium Roast - 1 Freshpack = 1 Cup - 100/ Carton

FREE Shipping

MDKSX01

Veranda Blend - 0.3 oz - 80 / Carton

FREE Shipping

MDKSX03

Cafe Verona - 0.3 oz - 80 / Carton

FREE Shipping

MDKA194

Sumatra Flavor - Dark Roast - 1 Freshpack = 1 Cup - 100/ Carton

FREE Shipping

MDKA200

Donut Shop Blend Flavor - Medium Roast - 1 Freshpack = 1 Cup - 100/ Carton

FREE Shipping

MDKA184

French Roast Flavor - Dark Roast - 1 Freshpack = 1 Cup - 100/ Carton

FREE Shipping

MDKA122

Compatible with Flavia - 72/Carton

FREE Shipping Orders $45+

MDKB507

English Breakfast Flavor - 100 Freshpacks/ Carton

FREE Shipping

MDKB503

Green Tea With Jasmine Flavor - 100 Freshpacks/ Carton

FREE Shipping

MDKB508

Select Green Flavor - 100 Freshpacks/ Carton

FREE Shipping

MDKB506

Earl Grey Flavor - 100 Freshpacks/ Carton

FREE Shipping