Shop disposable face masks, face shields, thermometers,
hand sanitizers, toilet paper, tissues and disinfecting products.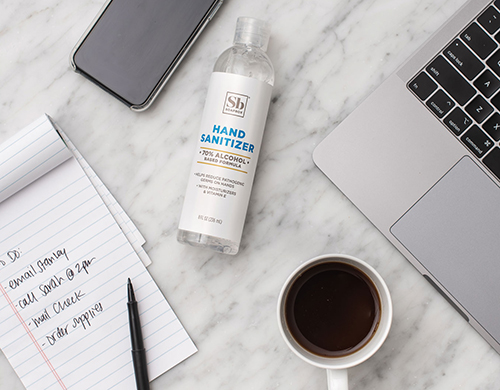 Browse our wide selection of disposable face masks and face coverings along with hand sanitizers, wipes, disinfectants, cleaners, gloves, eye protection and more. We offer a wide range of personal protective equipment (PPE) gear to minimize exposure to injury and infectious hazards and illness in the workplace, school, food service and job site locations.
Help keep your family and those you care for healthy with our popular hand sanitizer brands. Hand sanitizer kills most most common, illness-causing germs without soap and water. Some of our products are formulated with a light scent, moisturizers and skin conditioners to keep hands soft and they are great for frequent use. The small portable sizes are convenient for use at school, work or on the go. Most hand sanitizer has 60-75% ethyl alcohol content, which acts as the active antimicrobial ingredient.
Disposable Face Masks
ODFN5927549

FREE Shipping Orders $45+

ODFN9863085

FREE Shipping Orders $45+

MMMH1820

Polypropylene, Polyethylene, Aluminum - 20/ Box - White

FREE Shipping Orders $45+

IMPMFB3EL2K

FREE Shipping

SPZ85175

Adjustable, Earloop Style Mask - Polyvinyl Chloride (PVC), Cotton, Spandex - Transparent, Blue - 2 / Bag

FREE Shipping Orders $45+

BPL3PLYLV2

Recommended for: Face, Surgical Settings - Earloop Style Mask, 3-ply, Disposable, Latex-free, Elastic Loop - Adult Size - Polypropylene - Blue - 50 / Box

FREE Shipping Orders $45+

ODFN9863085

FREE Shipping Orders $45+

AVT39149

Recommended for: Face - Disposable - One Size Size - Blue - 50 / Box

FREE Shipping Orders $45+

SPZ10111

COVID PPE Back-to-Work Kit provides the essentials coping with COVID-19 in public. It includes one 4 oz. hand sanitizer, three KN95 face masks and three pairs of size large nitrile gloves.

FREE Shipping Orders $45+

ODFN9873715

FREE Shipping Orders $45+
Cloth & Washable Face Coverings
ODFN9885276

FREE Shipping Orders $45+

GN124444923PK

FREE Shipping Orders $45+

GN124446905

FREE Shipping Orders $45+

GN124444923

Three layer cotton construction face mask. Machine washable. 100% anti-bacterial. Skin-friendly and breathable.

FREE Shipping

NCW23110009

Recommended for: Face - Earloop Style Mask, Comfortable, Secure Fit, Durable, Rip Resistant, Tear Resistant, Washable - White - 50 / Pack

FREE Shipping

MMMRFM1003

Recommended for: Face, Indoor, Outdoor, Office, Transportation - Reusable, 2-ply, Lightweight, Breathable, Adjustable, Elastic Loop, Nose Clip, Comfortable, Washable - Cotton, Fabric - Gray - 3 / Pack

FREE Shipping Orders $45+

ODFN6113131

FREE Shipping Orders $45+

ODFN8821930

FREE Shipping

ODFN6855048

FREE Shipping

MMMRFM10010

Recommended for: Face, Indoor, Outdoor, Office, Transportation - Reusable, 2-ply, Lightweight, Breathable, Adjustable, Elastic Loop, Nose Clip, Comfortable, Washable - Cotton, Fabric - Gray - 10 / Pack

FREE Shipping Orders $45+

MMMRFM1005

Recommended for: Face, Indoor, Outdoor, Office, Transportation - Reusable, 2-ply, Lightweight, Breathable, Adjustable, Elastic Loop, Nose Clip, Comfortable, Washable - Cotton, Fabric - Gray - 5 / Pack

FREE Shipping Orders $45+
Hand Sanitizer
GOJ963124

4 oz Size - Floral Scent - Flip Cap Dispenser - 1 Each

FREE Shipping Orders $45+

ODFN7218133

FREE Shipping

ODFN9009240

FREE Shipping Orders $45+

GOJ965212EA

8 oz Size - Unscented - Push Pump Dispenser - 1 Each

FREE Shipping Orders $45+

GOJ365912EA

12 oz Size - Moisturizing - Push Pump Dispenser - 1 Each

FREE Shipping Orders $45+

GOJ302312EA

20 oz Size - Moisturizing - Push Pump Dispenser - 1 Each

FREE Shipping Orders $45+

GOJ963124

4 oz Size - Floral Scent - Flip Cap Dispenser - 1 Each

FREE Shipping Orders $45+

GOJ579104

18.1 oz Size - Push Pump Dispenser - 1 Each

FREE Shipping Orders $45+

ODFN7744651

FREE Shipping

ODFN8407685

FREE Shipping Orders $45+

GOJ967406DECOPK

8 oz Size - Refreshing Aloe Scent - Push Pump Dispenser - 4/ Pack

FREE Shipping Orders $45+
Disinfecting & Sanitizing Wipes
GOJ902210

5" x 7" - 100 Wipes/ Box - 1 Box

FREE Shipping Orders $45+

ODFN9840414

FREE Shipping

GOJ911112EA

5.78" x 7" - Fresh Citrus Scent - 100 Wipes/ Canister - 1 Canister

FREE Shipping Orders $45+

RAC77182CT

7" x 8" - Lemon & Lime Blossom Scent - 80 Wipes/ Canister - 6 Canisters/ Carton

FREE Shipping Orders $45+

GOJ911306EA

6" x 6.75" - Fresh Citrus Scent - 270 Wipes/ Canister - 1 Canister

FREE Shipping Orders $45+

ODFN9346586

FREE Shipping
Disposable Gloves
ODFN3604176

FREE Shipping Orders $45+

ODFN5929458

FREE Shipping Orders $45+

PDF8600L

Large Size - Unisex - Polyethylene - Clear - Disposable, Ambidextrous, Lightweight, Comfortable, Durable - For Food Handling, Multipurpose, Cleaning, Printing - 100 / Box - 11.50" Glove Length

FREE Shipping Orders $45+

ODFN9665518

FREE Shipping Orders $45+

ODFN8337982

FREE Shipping Orders $45+

PGD8625M

Medium Size - Unisex - Latex - Natural - Powder-free, Disposable, Beaded Cuff, Ambidextrous, Comfortable - For Food Handling, Assembling, Manufacturing, General Purpose - 100 / Box

FREE Shipping Orders $45+

ODFN7133126

FREE Shipping Orders $45+

ODFN5929458

FREE Shipping Orders $45+
Non-Contact Infrared Thermometers
SPIJXB178

Infrared, Easy to Read, Memory Function, Non-contact, Backlight, Touchless, Auto-off - For Forehead, Body, Surface, Home, Hospital

FREE Shipping

ODFN9785293

FREE Shipping Orders $45+
Immune Support
ALA6777

Powder - Orange Flavor - 2 Packets/ Pack - 6 Packs/ Box

FREE Shipping Orders $45+

ABN10030

30/ Pack - Citrus

FREE Shipping Orders $45+

ABN18630

Berry Flavor – 64 Tablets

FREE Shipping Orders $45+

ABN10030

30/ Pack - Citrus

FREE Shipping Orders $45+
UV Sterilizers
NMDPUS60883

FREE Shipping Orders $45+

NMDUVB60892

FREE Shipping Orders $45+

ECAEG4749

FREE Shipping Orders $45+

OTTUV11001M

1 Each - White

FREE Shipping Orders $45+
Cleaning & Disinfectants
ODFN3812040

15 oz Size - Citrus Scent - 6 Cans/ Carton

FREE Shipping

ODFN6445109

FREE Shipping Orders $45+

CGCC1002

17 oz Size - Lemon Scent - 12 Cans/ Carton

FREE Shipping

CLO38504EA

16 oz Size - Aerosol - Fresh Scent - 1 Each

FREE Shipping Orders $45+

CLO68970

32 oz Size - Spray - Unscented - 6/ Carton

FREE Shipping

CLO32263

81 oz Size - Unscented - 6 Bottles/ Carton

FREE Shipping Orders $45+

KIK11006755042

1 Gallon Size - Bleach Scent - 6 Bottles/ Carton

FREE Shipping Orders $45+

RCM11983227

1 Gallon Size - Fresh Lemon Scent - 1 Bottle

FREE Shipping Orders $45+

ZPE67923

1 Gallon Size - Citrus Scent - 1 Bottle

FREE Shipping Orders $45+

ZPEZUNRS128EA

FREE Shipping Orders $45+

CLO35420

1 Gallon Size - Original Scent - 1 Bottle

FREE Shipping Orders $45+

CLO68970EA

32 oz Size - Unscented - 1 Bottle

FREE Shipping Orders $45+

CLO15949CT

7" x 8" - Fresh Scent - 75 Sheets/ Pack - 6 Packs/Carton

FREE Shipping Orders $45+

DVOCBD540557

1 Gallon Size - Lemon Scent - 2 Bottles/ Carton

FREE Shipping Orders $45+

CLO31761

12" x 12" Wipe Size - 110 Wipes/ Pack - 2 Packs/ Carton

FREE Shipping

CLO30359

12" x 12" Wipe Size - Unscented - 110 Wipes/ Pack - 1 Pack

FREE Shipping Orders $45+