Big & Tall Chairs Buying Guide
Heavy-Duty Office Chairs Suited for 350+lbs. in Classic and Modern Styles
We have a great selection of inviting adjustable seating additions to your home office, corporate office and reception area for Big & Tall customers. Our selections offer premium upholstery, leather, ergonomic, lumbar support, durability, strength and weight capacities over 350 lbs.
These heavy duty chairs are easily assembled and most have free 2-day shipping available. We offer brands from Flash Furniture, Lorell, Alera, Safco, HON, SertaPedic, Sadie, La-Z-boy, Iceberg and OFM.
Chair Features:
A wider seat area and larger diameter base
Accommodates 350lbs or more
A higher seat height range
Pneumatic seat height adjustment
Tilt tension and tilt lock controls
Please see individual product description for full details.
Big & Tall Chair Features:
Pneumatic seat height adjustment: Quick and easy adjustment regulates the height of the chair relative to the floor.
Back height adjustment: Simple lift motion positions lumbar support within a fixed range to alleviate back stress.
Seat Glide Mechanism: Quick and easy adjustment regulates the height of the chair relative to the floor.
360° Swivel: Chair rotates 360° in either direction for ease of motion.
Tilt: Pivot point located directly above center of chair base (white dot indicates pivot point).
Mid-Range Knee Tilt: Pivot point located slightly ahead of center of chair base. Allows user to recline at a more relaxed angle.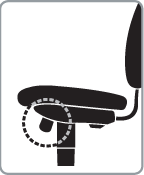 Tilt Tension: Controls rate and ease with which chair reclines to different weight and strengths of users.
Tilt lock: Locks out tilt function when chair is in upright position.
Shop Big & Tall Chairs by Style:
Big & Tall Executive Chairs
Ideal for larger and taller professionals who spend long hours behind a desk. Executive style typically has deep cushions, extended headrest, high-back and lumbar support.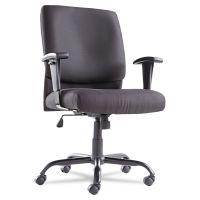 Big & Tall Mid-Back Chairs
Specially designed for the Big and Tall person, these styles offer slimmer profile, support and heavy duty features without the high-back and headrest.
Big & Tall High-Back Chairs
Big and Tall chairs provide an added level of both support and comfort when they have a high-back style design. They fit a tall frame with room to spare.
Big & Tall Guest/Reception Chairs
Our Big & Tall options provide inviting seating for your reception and office area. They offer higher weight capacity and a heavy duty design. Some are even stackable for storage convenience.
500 lb. Capacity Big & Tall Chairs
Many of our Big and Tall chairs exceed the 500lb. capacity needs of our customers. They offer extra-wide, extra-deep seating with padding to offer long-term comfort.
Leather Big & Tall Chairs
Our luxurious leather Big & Tall chairs offer a stylish and classy look to your office space while providing a durable and easy-to-clean surface.
Top Selling Big & Tall Style Chairs
ODFN3868754

FREE Shipping

ODFN3798978

Supports Up To 400 lbs - Black - Bonded Leather Fabric - Assembly Required - Limited 5-Year Warranty

FREE Shipping

ODFN476279

Supports Up To 350 lbs - Taupe - Faux Leather Fabric - Assembly Required - Limited 5-Year Warranty

FREE Shipping

ODFN248897

Supports Up To 500 lbs - Dark Gray - Bonded Leather Fabric - Assembly Required - Limited 5-Year Warranty

FREE Shipping

ODFN248897

Supports Up To 500 lbs - Dark Gray - Bonded Leather Fabric - Assembly Required - Limited 5-Year Warranty

FREE Shipping

ODFN7391635

Big on style. Big on comfort. Ergonomic executive office chair with bonded leather upholstery tested to support 400 lbs.

ODFN6803931

Big on style. Big on comfort. Ergonomic executive office chair with bonded leather upholstery tested to support 400 lbs.

FREE Shipping

ODFN8085683

Big on style. Big on comfort. Ergonomic executive office chair with bonded leather upholstery tested to support 400 lbs.

FREE Shipping

ALEMS4419

28.75" x 32.25" x 44.88"-48.63" - 500 lb Weight Capacity - Leather - Black - Assembly Required

FREE Shipping

BSXVL685SB11

28" x 32" x 45.25"-48" - 450 lb Weight Capacity - Leather/Metal - Black - Assembly Required

FREE Shipping

LLR40206

22.9" x 30.3" x 46.9" - 450 lb Weight Capacity - Bonded Leather - Black - Assembly Required

FREE Shipping

OIFBT4510

28.5" x 27.38" x 40.13"-43.75" - 450 lb Weight Capacity - Fabric/Nylon - Black - Assembly Required

FREE Shipping

BSXVL705VM10

25.6" x 29.5" x 39.88"-42.88" - 450 lb Weight Capacity - Fabric/Mesh - Black - Assembly Required

FREE Shipping

SAF3397BL

26" x 26" x 35.5"-38" - 500 lb Weight Capacity - Polyester/Mesh/Steel - Black - Assembly Required

FREE Shipping

LZB48961B

28" x 32.25" x 45.75"-48.75" - 400 lb Weight Capacity - Bonded Leather - Brown - Assembly Required

FREE Shipping

SAF3394BL

26" x 26" x 37"-48.5" - 350 lb Weight Capacity - Mesh/Polyester - Black - Assembly Required

FREE Shipping

FHFGO2092M1TPGG

27.5" x 32" x 44"-47" - 500 lb Weight Capacity - LeatherSoft - Taupe - Assembly Required

FREE Shipping

SAF3397BV

26" x 26" x 35.5"-38" - 500 lb Weight Capacity - Vinyl/Nylon/Steel - Black - Assembly Required

FREE Shipping

LZB48968

30" x 31.5" x 46"-49" - 400 lb Weight Capacity - Bonded Leather - Black - Assembly Required

FREE Shipping

SAF3394BV

26" x 26" x 39" - 350 lb Weight Capacity - Vinyl - Baltic - Assembly Required

FREE Shipping