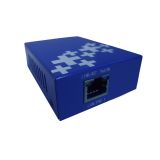 4XEM 1-Port 100M 10/100 Mbps PoE Extender
Product Number:
IGRMQW5911
Product Description
4XEM 1-Port 100M 10/100 Mbps PoE Extender - Deliver both data and power over Ethernet and beyond 100 meters to a PoE network device with 4XEM'S 100M 10/100 PoE Extender. This durable and high quality PoE Extender supports 10/100Mbps data rates and delivers IEEE 802.3 at power levels up to 25.5W. Powered via PoE inputs, the extender does not require local power. Simply plug and play with no configuration required. Multiple extenders can be cascaded to reach up to 500 meters. Go long!

Problem it solves: Cost effective solution to easily get juice to a network camera, IP phone or other network powered device beyond the 100 meter PoE limit.

4XEM gear is respected industry wide for its high performance, premium quality and durability.
Guides & Information
Related Articles
Product Specifications
Additional Information

PoE Functions PoE standard IEEE 802.3af Power over Ethernet / PSE IEEE 802.3at Power over Ethernet / PSE PoE Pin definition Endspan?12?36? Defaulting Midspan?45?78? Optional PoE ports Max Watts: 15.4 Watts Max Watts: 25.5 Watts Hardware Ports 2x10/100M Auto-sensing (LS101) 3x10/100M Auto-sensing (LS102) 5x10/100M Auto-sensing (LS105) Cabling Cat.5 UPT cable ??100m? LED indicator Power, Link, Act, PoE Dimension(L*W*H) 86mm*64mm*25mm Enviornment Working Temp.: 0??55? Storage Temp: -40??70? Operating Humidity: 10%?90%,Non-condensing Storage Humidity: 5%?90% Non-condensing Power PoE inputs Watts Max 5 W Network Function Standards IEEE 802.3, 802.3u, 802.3x, 802.3af, 802.3at CSMA/CD, TCP/IP Function Compatible with IEEE 802.3af PD devices PoE power priority Wire-speed forwarding IEEE802.3X Full duplex flow control and Backpressure Half duplex flow control

Brand Name

4XEM

Height

1"

Length

3.4"

Limited Warranty

1 Year

Manufacturer Part Number

4XLS101

Product Name

1-Port PoE Extender

Product Type

Network Extender

Width

2.5"