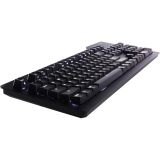 Das Keyboard Keyboard Prime 13
Cable Connectivity - USB Type A Interface - 104 Key - English (US) - Computer - Windows, Mac OS, Chrome OS, Linux - Mechanical Keyswitch - Black
(1) Reviews
Product Number:
SYNX4681658
Minimalist design with anodized aluminum top panel
No more wearing out! Mechanical key switch offers a longer lifespan and higher stability for nonstop gamers and typers
Cherry MX mechanical switches with crosspoint gold contacts
The USB Type A interface allows easy connectivity with your Computer
More details
Product Description
Das Keyboard Keyboard Prime 13 - Minimalist design
Start with pure lines sculpted in aluminum, add clean white backlit keys with a modern font face, and you get an incredibly efficient tool that helps get the job done.

German engineered Cherry MX switches
Das Keyboard incorporates a product of the highest-quality German engineering: Cherry MX switches. With gold crosspoint technology, these switches ensure high-precision electrical contact. They last over 50 million keystrokes with no loss of quality.
Cherry MX brown switch
Feel: Soft tactile
Actuation force: 45g
Tactile force: 55g
Lifetime: 50 million actuations
Total travel distance: 4mm
Pre-travel distance: 2mm
Operating point: 2mm
Reset point: 2mm
Keycap stem: MX (cross)
Type anywhere, even in your cave
The Das Keyboard Prime 13 wields white LED backlit keys with 7 levels of brightness. Plenty-enough settings even for desks located in challengingly-dark environments.
USB connectivity

Improved cable management
With the extra-long braided cable and its rectangular shape, the Prime 13 keeps you knolling more then ever.

Connect any device with a USB pass-through
Conveniently plug a mouse, thumb drive, headset, or phone directly into the keyboard's USB pass-through.
Save the planet. Your Prime 13 saves energy

The planet needs your help. Every bit counts. The Prime 13 has built-in energy saving features.
Sleep control function

Das Keyboard was one of the first to incorporate a computer sleep control to its keyboards. Having a computer sleep a few hours a day while you are away from your desk will make your power hungry 600-watt, eight-core, fire-breathing monster computer stop burning unnecessary energy when it is not needed.
LED auto-dim

The Prime 13 backlighting automatically dims after 10 minutes of inactivity. Even keyboards like naps.
Every detail matters

Laser engraved aluminum label
Forget stickers. Find excellence down to the laser-engraved aluminum label under the keyboard.

Sidelit media controls
We rotated the LED switches to be front facing so that even the media controls icons located on the side of the keycaps are backlit. The best way to explain this is to create this new word, sidelit.
Connecting users to the machine
The Prime 13 is a minimalist, beautiful, and rock-solid keyboard that seamlessly connects the user to the machine for maximum creativity and productivity. Focus on the task at hand and let the keyboard disappear from your mind, seamlessly connecting it to your work displayed on the monitor.
Knolling has never looked better
For the overachiever who likes to keep their desk clean, the Prime 13 has a place in the middle of your desk.
Minimalist design with anodized aluminum top panel
No more wearing out! Mechanical key switch offers a longer lifespan and higher stability for nonstop gamers and typers
Cherry MX mechanical switches with crosspoint gold contacts
The USB Type A interface allows easy connectivity with your Computer
White LED backlighting
Full n-key rollover (NKRO)
Quickly and easily connect with the computer
USB pass-through
Extra long, 6.5 ft (201 cm) braided cable
Quick access media controls and sleep mode via function keys
Product Specifications
Brand Name

Das Keyboard

Color

Black

Device Supported

Computer

Keyboard/Keypad Connectivity Technology

Cable

Keyboard/Keypad Depth

6.80"

Keyboard/Keypad Height

0.80"

Keyboard/Keypad Host Interface

USB Type A

Keyboard/Keypad Width

18"

Keyswitch Technology

Mechanical

Limited Warranty

1 Year

Localization

English (US)

Manufacturer Part Number

DKP13-PRMXT00-US

Number of Keys

104

Platform Supported

Chrome OS Linux Mac OS Windows

Product Line

Prime 13

Product Name

Keyboard Prime 13

Product Type

Keyboard